Industry 4.0 – otherwise known as the fourth industrial revolution – has impacted industries around the world, and the automotive sector has been no exception to this rapid growth. To keep up with the pace of change, leading digital vehicle inspection experts have deployed disruptive hardware and software – such as Artificial Intelligence (AI) powered digital vehicle inspection booths that increase efficiency in automotive manufacturing and maintenance.
AI powered digital vehicle inspection technology has allowed OEMs to move away from time-consuming manual inspections and turn toward fully automated processes.
Extract from Top Business Tech by Charlie Shuter, Senior Engineer at DeGould
What is industry 4.0?
Industry 4.0, as you may guess, is the fourth development of the industrial revolution; a process that we are currently living through.
To put this in perspective, Industry 1.0, the first development, came with the advent of mechanisation, steam power and water power, the second saw the introduction of electricity into assembly lines for mass production and the third came with line use of IT systems to automate production.
The fourth relates to automation and data exchange in technology and processes on the production line, such as Smart manufacture, Cloud computing, The internet of things and Artificial Intelligence; all of which require collaboration between Information Technology and Operational Technology, enabling smarter business decisions and efficiency gains.
Information Technology and Operational Technology

Information technology (IT) was introduced to the production line during the third revolution and refers to the use of computers to create, process, store, retrieve and exchange data and information. Operational technology (OT) relates to physical processes carried out by machinery on the production line.
For OEMs to strengthen their position within Industry 4.0, the gap between IT and OT must converge. Part of this convergence means that existing OEM Information Technology systems are in communication with Operations Technology systems, responsible for performing operations on the production line.
Next-Gen Operational Technology Hardware
Today's hardware technology has paved the way for OEMs to deal with quality issues within their supply chains and minimize downtime. In order to tackle these situations in the long-term, however, OEMs must utilize an all-encompassing approach to ensure the efficiency and integration of both their Information Technology and Operational Technology.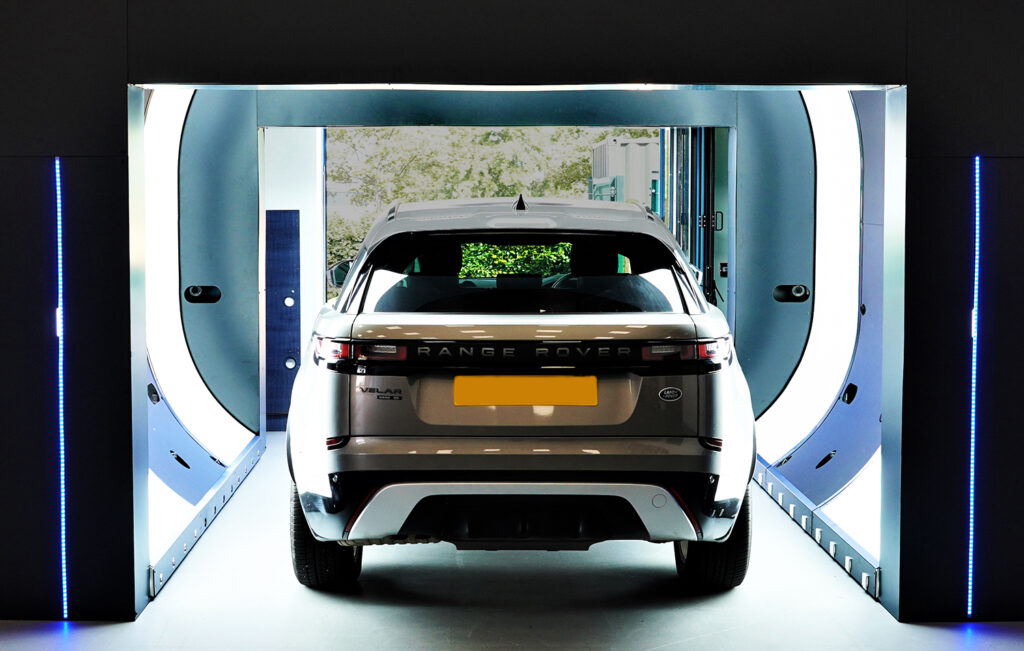 A prominent example of modern hardware is the DeGould Auto-Compact digital vehicle inspection booth. The booth increases finished vehicle inspection efficiency in OEM automotive production line manufacturing and FVL operations. 
Leveraging high-resolution cameras with optimised hardware and lighting equipment, the Auto-Compact booth captures dents, dings, chips and scratches. A 'Spec-Check' feature can also be added to check the correct body panels, wheels and optional extras have been fitted to finished vehicles. The drive-through booth boosts efficiency whilst completing a vehicle inspection with a total process time (TAKT time) of under 6 seconds per vehicle.
A Combined Approach Towards Hardware and Software
In this digital-first era, OEMs can often overlook the importance of operational technology hardware, prioritising IT software technologies. However, a balance between software and hardware is vital to get the most out of industry 4.0.
There is no doubt that next-generation hardware is required to embrace software applications. From the latest sensors to bright lighting and high-resolution mirrorless cameras, hardware technologies are a must to drive efficiency and support software technologies such as AI and Machine Learning to produce powerful results.
Automotive leaders such as Jaguar Land Rover, Ford, Mercedes Benz and Toyota have already adopted DeGould digital vehicle inspection technology. By leveraging digital vehicle inspections, OEMs can enhance the client experience by providing the highest possible quality product to the customer.
The future of automotive technology incorporates a blend of hardware and software technologies that will help professionals boost operational efficiency.