The digitalisation of the automotive industry has progressed significantly in recent years. Disruptive technologies such as artificial intelligence, automation and cloud computing are revolutionising significant areas of automotive manufacturing, including the supply chain, quality assurance, and logistics.
Extract from Vehicle Electronics by Spyridon Karachalios, Head of Computer Vision at DeGould
Global automotive giants including BMW, Audi, and Mercedes are already leveraging computer vision – a subcategory of machine vision that enables computers and systems to decipher relevant insights from digital inputs such as images and videos. The application of the technology is being utilised to automate manufacturing practices and drive accuracy and consistency, whilst reducing processing times. This technology includes combining AI with computer vision algorithms to detect, localise and measure minute damages or defects, monitor equipment conditions, track product lifecycle and much more.
Despite the growth of vehicle demand, challenges within the supply chain are obstructing production levels. At this stage, OEMs that automate their operations by implementing AI and computer vision-based technologies will gain an advantage over their competitors. Strengthening the vehicle inspection process with computer vision can enable manufacturers to build quality customer relationships by enhancing their quality assurance process and minimising damage disputes. OEMs can implement computer vision in combination with AI to make their operations more optimised.
Bolstering AI with computer vision to automate vehicle inspection
Several leading OEMs are on the journey to digitise their vehicle inspection processes. Outdated manual checks, which are expensive and often inaccurate, are being replaced by automation and machine learning models that detect defects. This has been made possible by rapid advances in computing power and AI – providing the necessary digital tools to transform vehicle inspection inside the factory and through the finished vehicle supply chain. Companies such as DeGould are helping OEMs and their partners to take advantage of this technology to generate real-world business benefits.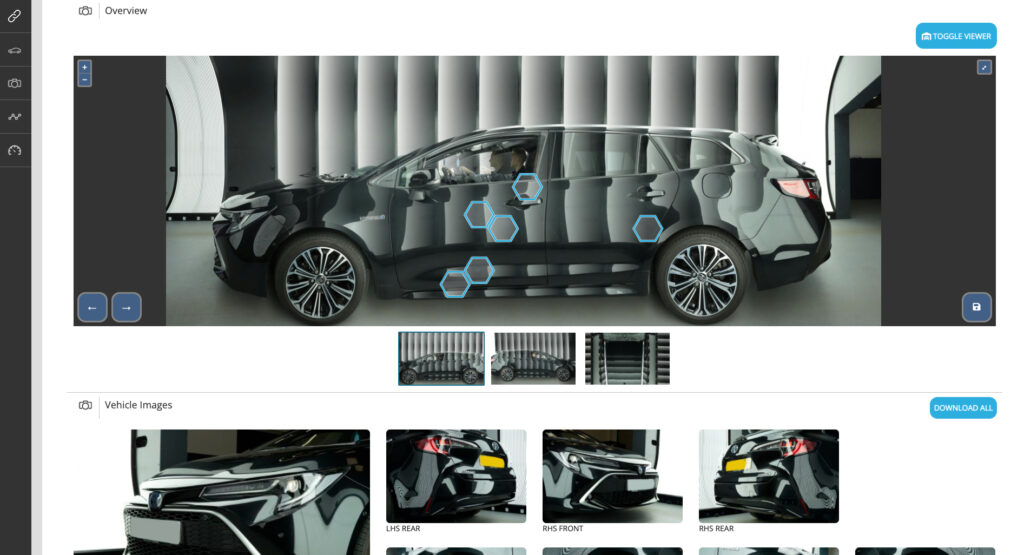 Computer vision is a field of AI that offers a powerful way to further enhance automated vehicle inspection. Processing images in the same way as the human eye delivers an additional layer of precision. 3D modelling techniques and mathematical algorithms enable the system to accurately locate defects on the vehicle surface, reducing the time taken to find and repair the damage. Moreover, a precise measurement of the damage can be made. This technology will enable systems like the DeGould Auto-compact to not just identify defects as small as a strand of hair, but also pinpoint the exact location and size of the fault with millimetre accuracy. OEMs can therefore validate their results and provide a high-quality finished product.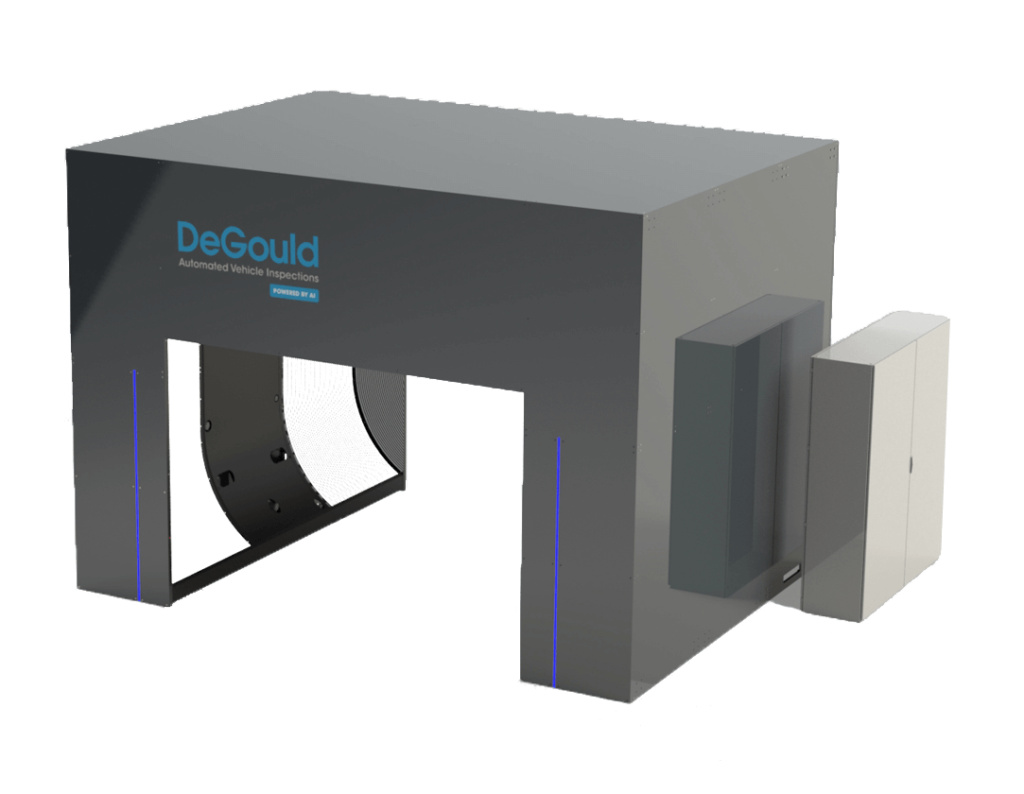 Automated vehicle inspection systems that capture ultra-high-resolution images to provide real-time insights into the vehicle's condition can be deployed by OEMs to improve their quality inspection process. The high-resolution imagery allows a detailed view of the dents, scratches and other vehicle defects. Due to the clarity of the images, the visible damage or specification issue can be flagged by computer vision analysis. While AI analyses based on the available data, computer vision does not require learning data and allows manufacturers to personalise algorithms, validating results with a higher level of reliability. Not only does this drive precision for manufacturers, but it does so within seconds, speeding up the entire quality control process.
A Tailored Solution for Each OEM
AI alone is a hugely data-led technology; computer vision is bolstered with mathematical figures that enable OEMs to gain a better understanding of the problems. Computer vision in combination with AI can provide ten times more accuracy in localisation and measurement than AI alone whilst maintaining consistency and repeatability. But the benefits do not stop there.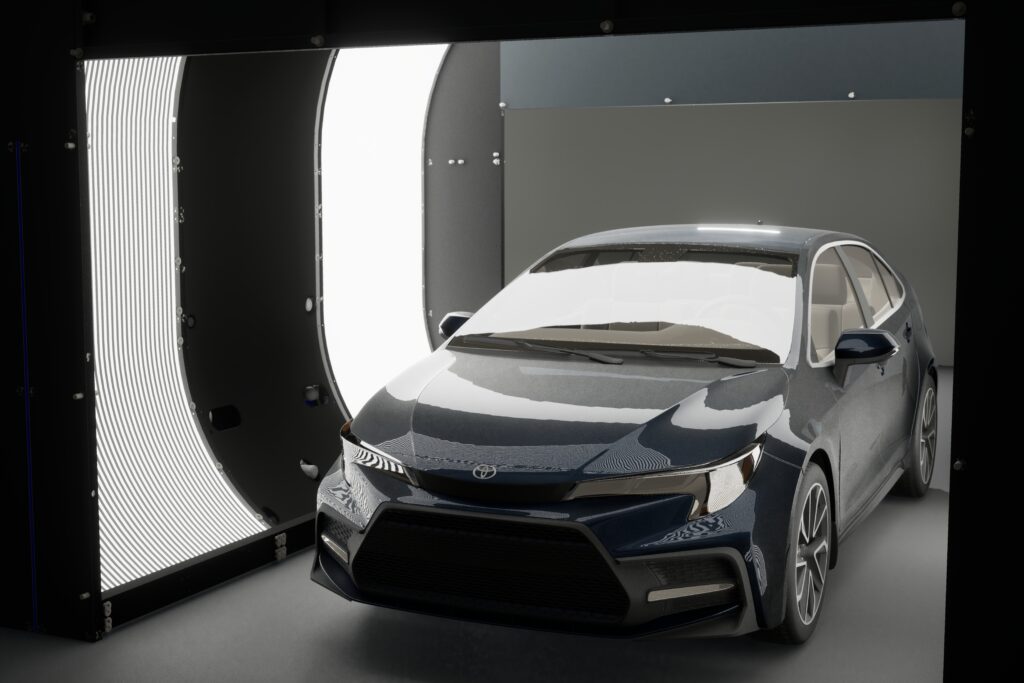 Computer vision also provides simulation tools to fine-tune the lighting and camera setup for capturing the highest quality vehicle images. These are the prerequisite for accurate machine learning in production or a vehicle handover area, but different vehicle sizes and shapes make this difficult to achieve. Varying body profiles can create blind spots or shadows that limit defect detection in the image; structured lighting to highlight dents can simply miss parts of the vehicle. By using computer vision technology it is possible to create a digital twin of the vehicle on a production line and simulate their passage through an inspection station before a system is installed. The result is a tailored solution for each OEM.
The digitalisation of the automotive industry has progressed significantly in recent years but advances in technology have created new opportunities. One of the most exciting is to leverage step changes in computer vision technology to improve vehicle quality inspection.
Industry 4.0: Strengthening a long-term vision with computer vision
There is no doubt that the digital revolution has changed how OEMs approach quality assurance and will continue to transform how manufacturers operate. The automotive industry is second to none in establishing a stronger position in Industry 4.0, and as a result, OEMs are making most of the emerging technologies.
Quality assurance is an essential area of the supply chain for automotive manufacturers; automating this area of operation will drive their quality and put the manufacturer in a stronger industry position. Now is the time for OEMs to leverage these emerging technologies, allowing them to record significant growth whilst the industry is dealing with challenges. By leveraging computer vision, OEMs can enhance the client experience by providing a high-quality end product. OEMs providing the best customer experience will stand apart from the competition in Industry 4.0.